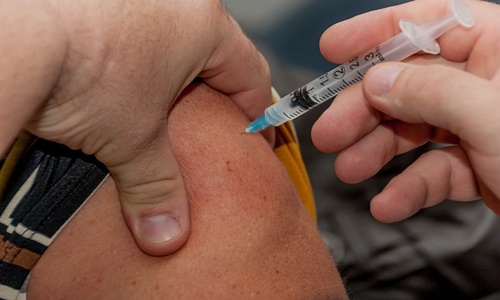 The Ministry of Health (MOH) of Singapore has reportedly announced that the Moderna/Spikevax bivalent vaccine will be available in the country three days earlier than the previously set date.
This was possible because the MOH's operations teams finished preparations ahead of the deadline. The ministry stated that it will be beneficial to administer the vaccine early amid rising infections due to the XBB Omicron subvariant.
The XBB variant, also called BA.2.10, has been found in several countries like the USA, Japan, India, Denmark, Bangladesh, and Australia.
The ministry also stated that, based on preliminary local data, this new strain is not more deadly than other Omicron subvariants.
The bivalent vaccine is based on the original vaccine and has the same dosage for boosting and will target the Omicron variant as well as the COVID-19 virus.
The ministry added that the vaccine will offer better protection against new variants and has been proven safe and effective, and assured that the process of upgrading the vaccine with new strains is an 'established practice'.
It also noted that as per post-market surveillance, over 11 million updated bivalent mRNA vaccine shots have been administered in the USA to date with no safety concerns reported.
Ong Ye Kung, Minister of Health, stated that although the number of COVID-19 cases in Singapore has been increasing, it was not the main reason behind expediting the bivalent vaccine administration.
Ong added that the MOH is closely watching the new strain, as XBB is exhibiting characteristics that show that it is dominant over other subvariants.
Although the strain has been detected in various countries, its cases are especially rising faster in Singapore, but Ong was quick to point out that so far there is no evidence that indicates that the variant results in severe outcomes.
Last week, the MOH had announced that the bivalent vaccines would be replacing the existing mRNA vaccines being used in the country, with the Spikevax Bivalent Original/Omicron COVID-19 vaccine being the first to be approved in the country as a booster.
Those who have not yet received booster shots, or those above the age of 50 whose last dose was given over five months back, will be eligible to receive the bivalent vaccine.
Source credit: https://www.channelnewsasia.com/singapore/covid-19-bivalent-vaccine-booster-moderna-3001451