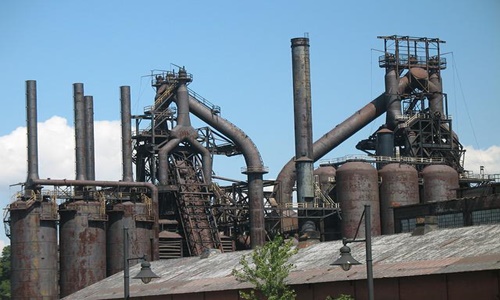 Leading solar tracker maker, Nextracker LLC, and a Pittsburgh-based steel manufacturer, BCI Steel, have reportedly announced the renovation of the Bethlehem Steel manufacturing plant in Leetsdale, Pittsburg, to manufacture solar tracker equipment for expansive solar power factories.
As per reports, the steel processing factory will integrate BCI Steel's new as well as restored equipment shipped from Brazilian and Malaysian factories to the United States.
The solar tracker tools manufactured at the facility will aid the rising solar markets of New York, Pennsylvania, Ohio, and Indiana.
Matt Carroll, CEO, BCI Steel, stated that the firm is delighted to extend Pittsburg's legacy as the core of the country's steel industry.
Carroll added that the association with Nextracker showcases the company's quality control and steel fabrication technology. Further claiming that the move will also open additional domestic solar-based capacity through the firm's inexpensive manufacturing.
Ken Jaycox, COO and SVP at United States Steel Corporation, stated that the U.S. Steel is pleased to deliver the steel mined, melted, and manufactured in America to Nextracker for its advanced solar tracker systems.
The Pittsburg factory is the third solar tracker fabrication plant Nextracker has commissioned under the partnership with a steel manufacturer this year to fulfill its commitment to revamp America's solar and steel supply chains.
With the additional capacity, the Pittsburg-based firm will develop 10 Giga Watt of homegrown manufacturing capacity in the country, which can power up to 7.5 million homes.
Dan Shugar, Founder and CEO, Nextracker, stated that BCI Steel's factory allows for speedy shipping response times, which the firm needs to meet growing demand from the Heartland and Mid-Atlantic regions of America.
Shugar added that this investment would further strengthen the country's solar production while helping re-establish capacity, equipment, and jobs in the U.S.
Earlier in April, Nextracker had opened a solar tracker production facility in Texas to develop low-carbon equipment for solar power plants in collaboration with JM Steel. This was followed by another dedicated steel production plant in Arizona with an aim to support domestic manufacturing in the region.
Source credit: https://www.prnewswire.com/news-releases/nextracker-and-bci-steel-renovate-abandoned-pittsburgh-steel-factory-to-serve-growing-us-utility-scale-solar-market-301576402.html