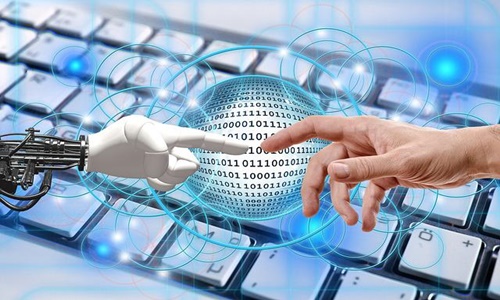 Businesses in Singapore are reportedly turning to robots to help perform various tasks, ranging from scanning library bookshelves to surveying construction sites, in order to make up for the shortage of staff in the wake of the pandemic.
The manpower ministry stated that the number of foreign workers, whom the city-state counts on, has dropped by 235,700 from December 2019 to September 2021. The ministry also noted that companies expedited the pace of automation and technology adoption due to COVID-19 curbs.
Construction firm, Gammon, used a four-legged robot called Spot, developed by American firm Boston Dynamics, to scan sections of gravel and mud to keep a track of the overall work progress, reporting the data back to the company's control room.
Michael O'Connell, General Manager, Gammon, stated that using Spot requires just a single human employee, instead of the previously required two to perform the task manually.
O'Connell stated that replacing the on-site need for manpower with autonomous solutions is becoming quite popular. He also believes that the industry's labor shortage, caused by the Covid-19 pandemic, is here to stay.
Meanwhile, the National Library of Singapore has also unveiled two shelf-reading robots that scan the labels of around 30% of its collection each day, which is around 100,000 books.
Lee Yee Fuang, Assistant Director, National Library Board, stated that the labor-intensive and routine aspect is reduced as the staff does not have to read the call numbers individually on the shelf.
For every 10,000 employees in the city-state's manufacturing industry, there are 605 robots installed, which is the second-highest number in the world after South Korea, having 932 robots, as per the 2021 report of the International Federation of Robotics.
Moreover, approximately 30 metro stations have robots that make coffee for commuters, meaning that they are also being used for customer-facing tasks.
Keith Tan, CEO of Crown Digital and creator of the barista robot, stated that it helped in solving the food and beverage sector's biggest 'pain-point' of finding staff and also created well-paid positions that help in automating the sector.
Source credit: https://www.reuters.com/technology/baristas-inspectors-singapores-robot-workforce-plugs-labour-gaps-2022-05-30/