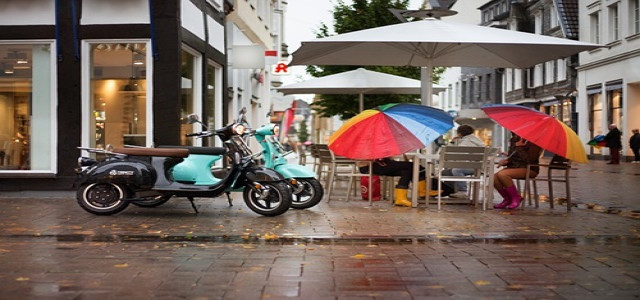 Yamaha's E01 electric scooter features a fully digital LCD instrument console with smartphone connectivity, reverse drive function and more
NEO's displays LED lighting, smart key integration and comes with mono-shock rear suspension along with other features
Japanese automaker, Yamaha has introduced its E01 and Neos' electric scooters, hopping on board the EV segment with the latest models that are expected to be launched in the Indian market soon.
Fashionably, Yamaha's latest E01 model showcases a suite of new features such as the all-LED lighting, a digital LCD instrument console that comes with SIM Card/Smartphone connectivity, regenerative braking system, reverse drive function, and others.
As per the company claims, the electric scooter based on the E01 concept design is equivalent to a 125-cc scooter with high-performance and 70km range capabilities when fully charged and displays three riding modes – Eco, Normal, and Power.
Meanwhile, the European regulations seem to believe that the E01 e-scooter has the capabilities to offer a power output of 11kW (15hp).
Yamaha Neo's is also designed to offer an appealing set of features including the all-digital LCD instrument console connected to a smartphone, LED lighting, along with telescoping front forks, smart key integration, and mono-shock rear suspension.
Neo's is built on the E02 concept to offer a storage space of 27-liter volume under the seat. The automaker is promoting the 68km range offered by Neo's – a 50-cc equivalent cooter – and power output capacity of 2kW, integrated with two swappable Lithium-ion batteries of 19.2 Ah and 50.4V capacities.
Forthcoming developments in India's EV space
Yamaha is competing with players like Honda and Suzuki, who are pursuing the EV market in India with their flagship e-scooters wherein the former competitor is expected to launch the Activa-based e-scooter, with Suzuki likely to enter the EV segment with its electric Burgman Street in 2022.
Source Credit: https://timesofindia.indiatimes.com/auto/bikes/yamaha-unveils-e01-and-neos-electric-scooters-in-india/articleshow/90818934.cms