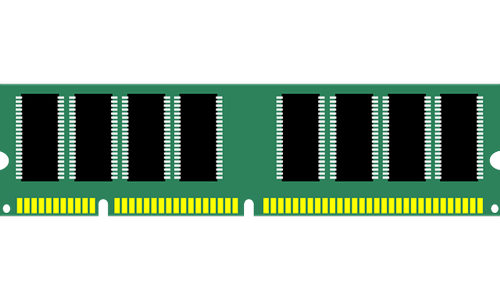 South Korean electronics giant, Samsung Electronics, has reportedly announced that it has developed a novel graphics DRAM (Dynamic Random-Access Memory) chip that comes with enhanced power efficiency and faster speed.
According to a company statement, the Graphics Double Data Rate 6 (GDDR6) DRAM has a 24 gigabit-per-second (Gbps) processing speed and is based on the firm's third-gen, 10-nanometer technology, which is 30% more efficient than previously available 18Gbps products.
The new chip's rate of processing graphic images goes up to 1.1 TB per second, claimed to be the fastest across the globe, equivalent to transferring more than 275 full HD films in one second, as per the tech firm.
Graphics DRAMs are utilized mostly in personal computers, notebooks, high-powered 3D gaming consoles, or other devices to play high-resolution videos. They hold great potential to be utilized in self-driving and electric cars, as well as in high-performance computing applications in the coming years.
In its statement, Samsung stated that the chip has been specifically designed to significantly boost graphics performance of next-gen game consoles, laptops, and graphics cards, and also for high-performance computing and AI-based applications.
Leveraging the alleged dynamic voltage scaling technology, the latest DRAM is capable of enhancing power efficiency by over 20%,
Daniel Lee, Executive VP, Memory Product Planning Team, Samsung Electronics, stated that as the sampling of its industry-first 24Gbps GDDR6 begins, the firm is hoping to endorse the graphics DRAM on next-gen GPU platforms by reducing time to market and fulfill the onslaught of new demand.
Samsung hopes to become a leader in the global graphics DRAM market by initiating mass production of its new chip. It predicts a double-digit growth annually in its high-performance graphics division.
With the customer verifications commencing this month onwards, the firm plans to commercialize the new DRAM along with GPU platform launches, which will speed up graphics innovation across the high-speed computing market.
The DRAM chip also meets the standards set by the JEDEC Solid State Technology Association, signifying its easy adoption by graphics and artificial intelligence companies.
Source credit: http://koreabizwire.com/samsung-develops-worlds-fastest-graphics-dram/223668