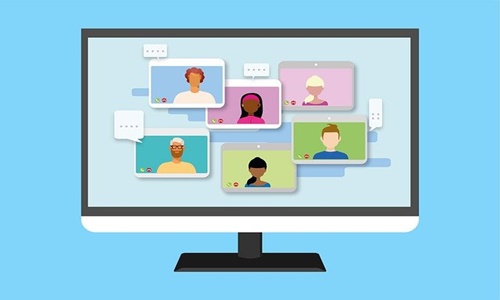 Zoom Video Communications, Inc. has announced new features and updates, which include gesture recognition, and a virtual whiteboard amongst others.
With Gesture Recognition, instead of clicking on a reaction during the call, user can raise their hand or do a thumbs up for displaying that reaction in the meeting. Currently, it only supports these two gestures and is available in client version 5.10.3 or later. While it is disabled by default at client level, it can be enabled at account, individual, or user level.
A virtual whiteboard called Zoom Whiteboard has also been added to Zoom Meetings, the desktop app, and Zoom Rooms, and will be added to Zoom Chat as well.
With the tool, users can add images, use sticky notes, and even save the whiteboard after the meeting ends. The feature is available on versions 5.10.3 and higher and can be accessed via the Whiteboard tab.
Audio delays on audio-conferencing for users in the Asia-Pacific region have been cut down , along with an overall improvement in audio quality. Data centers in the region have been updated as well, from where Call-Me outcalls will originate, and meeting invites will include new Toll-free and DID numbers when Asia is selected.
Other features include creating a central library of polls and turning on and off chat notifications. Hosts in the main session will now be able to see Breakout Room activity, such as audio/video status and screen sharing, of which users will be notified as well when entering.
Security features have been updated as well, with Zoom asking users who are detected to be logging in from a different device or country to work email account to enter a one-time password. The firm is also updating the Expo floor for Zoom events to allow 1,500 participants simultaneously and has increased the booths limit to 300.
As per the new updates, admins can now set specific chat policies with the new Chat Etiquette Tool and decided what action should be taken after detecting content triggering the policy.
Source credit: https://techcrunch.com/2022/04/20/zoom-announces-zoom-whiteboard-gesture-recognition-among-several-updates/